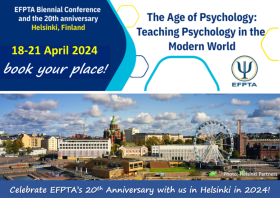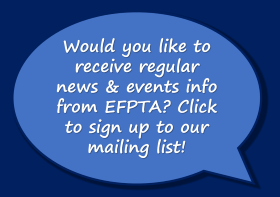 News
Please let us know any news stories from your country /association – use the "contact us" tab.
EFPTA Board meetings 2022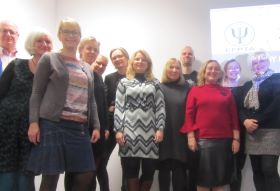 Normally the Board meets twice a year, in spring and autumn, in person, usually in a major European city. Choice of location often depends on availability of flights from member countries, and costs of meeting venue and hotel accommodation. The last face-to-face meeting was in Bratislava in November 2019 (see photo), not long before the start of the pandemic, and since then all our meetings in 2020, 2021 and early 2022 have been online via Zoom or other platform. Although we very much miss the in-person meetings, like many other organisations we have found benefits in meeting online: due to the convenience and low / no costs, we can meet more frequently, and some members are enabled to attend online who would be unable to do so otherwise.
But now we plan to hold the Spring 2022 Board meeting in person, on 29-30 April, in Odense, Denmark. We have scheduled it slightly later than usual in the hope that covid-19 restrictions and infection risk will have reduced over time. There will also be the option of 'attending' online, i.e. it will be a hybrid meeting.
The next full Board meeting will be in November 2022 (date to be confirmed), and before then there will be at least one interim meeting.
Any member of an EFPTA member association is welcome to attend Board meetings as an observer, by invitation /prior arrangement; please use the Contact page to obtain more details.