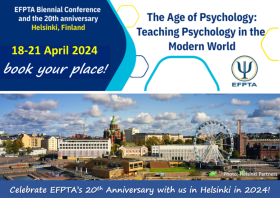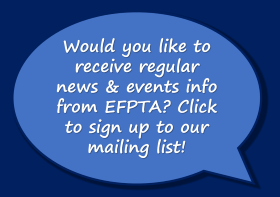 News
Please let us know any news stories from your country /association – use the "contact us" tab.
EFPTA at EuroPlat 2017, Salzburg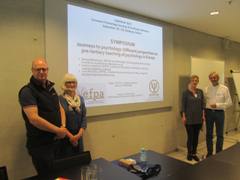 EFPTA had a strong presence at the flagship European Psychology Learning and Teaching (EuroPlat) conference, held in September 2017 in Salzburg, against a backdrop of the fabulous scenery of the Austrian Alps! EFPTA members Lenka Sokolová (Slovakia), Morag Williamson (Scotland) and Jock McGinty (England & Wales) gave a symposium on "Journeys to psychology: different perspectives on pre-tertiary teaching of psychology in Europe". Their presentation featured research conducted with school students, teachers, and EFPA Member Associations.
In the chair was Prof. Dr. Stephan Dutke, Chair of the EFPA Board of Educational Affairs, which hosted the session jointly with EFPTA. The presentations were followed by Q & A, and lively discussion amongst delegates!
You can find the complete symposium presentation and full Abstract below, or on the research-sharing platform, Open Science Framework, here. Visit the EuroPlat 2017 website for details of the whole event programme.
Documents and Resources
Symposium presentation 'Journeys to Psychology', Europlat 2017
Full Abstract of symposium 'Journeys to Psychology', Europlat 2017
Finnish article about Europlat 2017, from journal 'Psykologi'
Survey of EFPA Members on pre-tertiary psychology - infographic