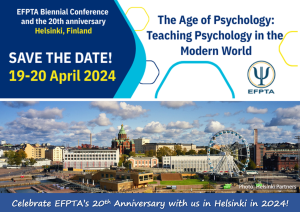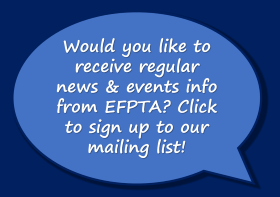 News
Please let us know any news stories from your country /association – use the "contact us" tab.
Forthcoming EFPTA Board meetings 2021
Saturday 11 September 2021: online
Friday 26 - Saturday 27 November 2021: in person or online or hybrid (to be confirmed). If in person or hybrid, the meeting will be hosted in Bratislava by the Slovakian association.
These meetings are attended by Board members (see 'Executive Board' page). It is possible for guests / observers to attend: if for example you are a member of an EFPTA member association, or a psychology teacher in a country without an association, please contact the Secretary if you would like to attend a Board meeting.