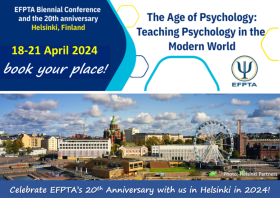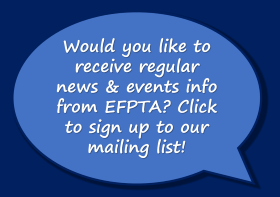 News
Please let us know any news stories from your country /association – use the "contact us" tab.
New network for psychology student teachers in Europe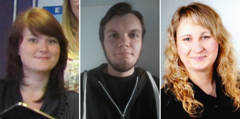 In April 2016 a group of three psychology teacher students from Germany - Maike Stückemann, Martin Behrendt and Sarah Längler(pictured left) - met as part of the EFPTA conference in Prague, which takes place every two years. They are planning to build a network of psychology student teachers named European Network of Psychology Students and Teachers (ENPST). It will be for psychology students, student teachers, teachers and everyone else who is interested in teaching psychology.

The aims/benefits of this network will be to:

exchange information regarding teaching psychology
provide help during semester abroad (if applicable)

provide news of actual events
develop a closer relationship between students
maintain and develop contacts
A possible option to achieve a network could be a homepage or forum. But we are in the process of developing and the outcome is absolutely open.
If you are interested to be part or to help to develop this network, please:
If you know any psychology student teachers, or psychology students who may be interested in teaching psychology as a career, please pass this information on to them, so that the idea of this project will be spread to many people in different European countries.