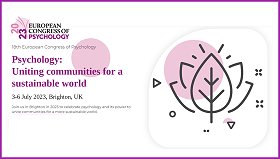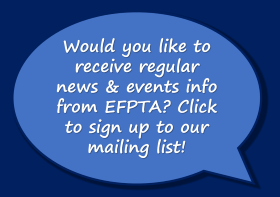 News
Please let us know any news stories from your country /association – use the "contact us" tab.
EFPTA Board meets in England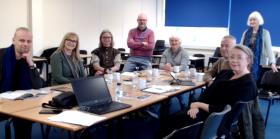 EFPTA Board's bi-annual full meeting took place on 18-19 November in England, hosted by Jock McGinty, EFPTA Vice President and England & Wales rep, at his school, Watford Boys Grammar School. It was so good to be able to meet in person again! Representatives from Denmark, England, Germany, Finland, Scotland and Sweden took part, with several other country reps able to join remotely. Mairi Rice was welcomed as new Scotland rep. A busy Agenda included planning for the spring 2023 webinar, the next Board meeting in April to be hosted by our Sweden rep in Stockholm, and preliminary planning for EFPTA 2024 conference in Helsinki. Watch this space for more news of these events!
Meet EFPTA's new President!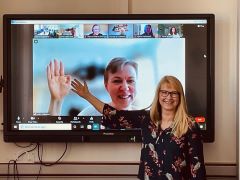 At the Board meeting on 30 April in Odense, Denmark, EFPTA members elected Mette Eggertsen as our new President for 2022-24. Mette, of the Danish psychology teachers' association, was previously EFPTA Vice-President. Most Board members attended in person - the first in-person meeting since November 2019 - and a small number attended virtually. An unusual 'hybrid handover' took place when outgoing President Lenka Sokolová (2019-22), from the Slovakian association, who attended via Zoom, handed over the role to Mette who was there in person - see the photo! The Board thanked Lenka for the huge amount of work she has put into advocating for high school level psychology teaching in Europe, and promoting EFPTA amongst psychology educators and practitioners. Fortunately, Lenka is continuing on the Board as representative for Slovakia.
The other three Officers elected /re-elected at the meeting are: Vice-President - Jock McGinty (England and Wales); Treasurer - Wolfgang Augustin (Germany); Secretary - Morag Williamson (Scotland).
The main business of the meeting was to plan activities for 2022-24 - watch this space for news of events!
EFPTA statement on Ukraine, 5 March 2022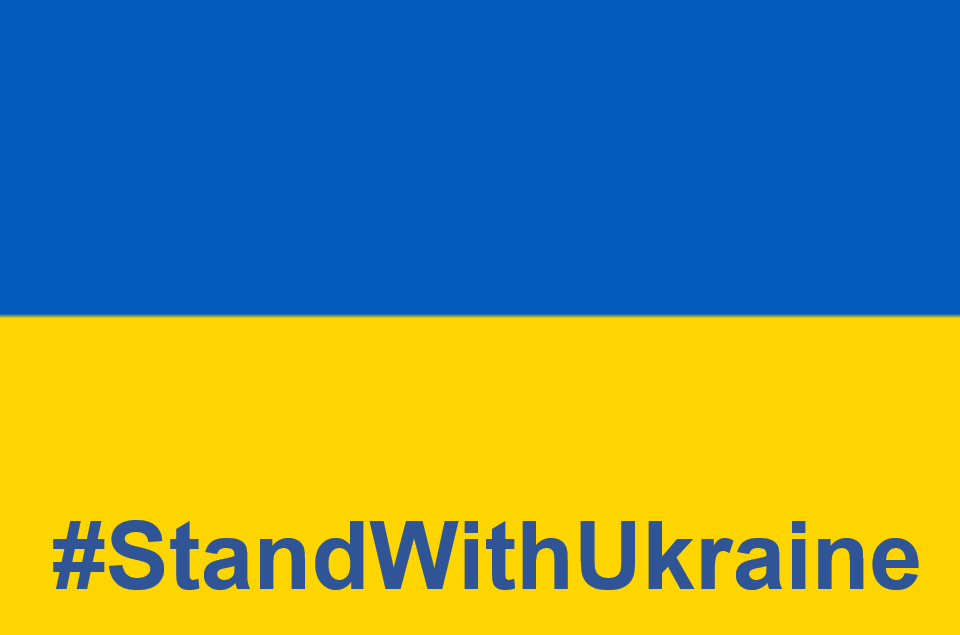 EFPTA totally condemns the Russian government's unprovoked and unjustified war on Ukraine. It is causing immense human suffering, violating human rights and international law.
We support the position of the European Federation of Psychologists' Associations (EFPA) which has issued a statement. In light of current circumstances we have removed the Russia page from this website.
EFPTA webinar 19 February: thanks for taking part!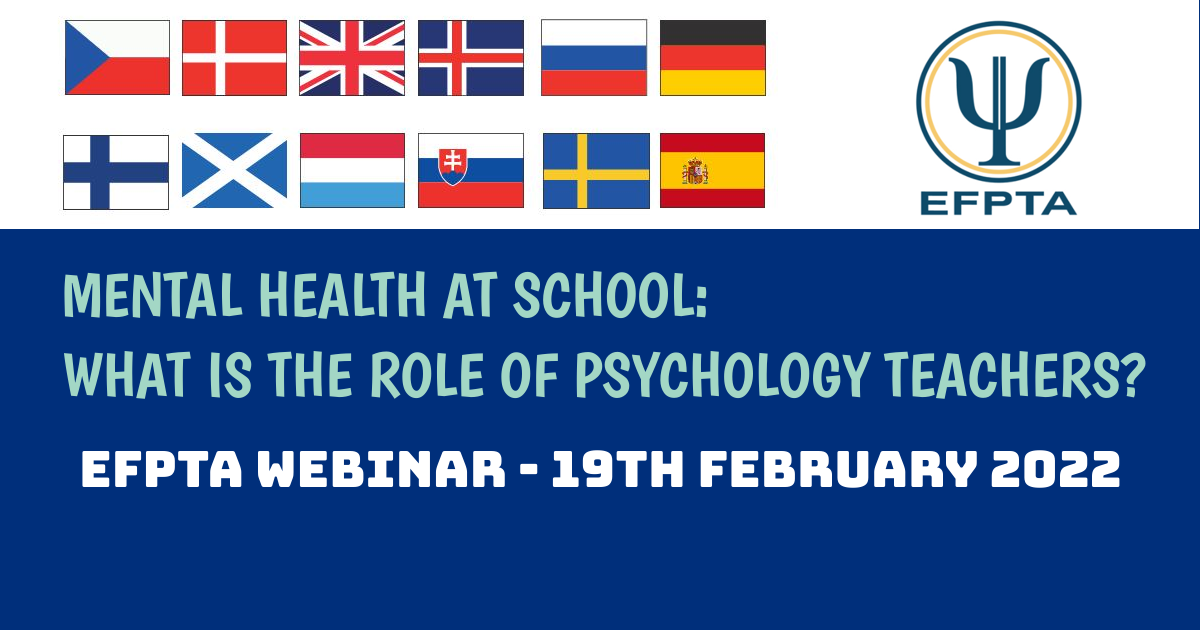 On 19 February we held a webinar with the theme: Mental health at school: what is the role of psychology teachers?
Around 50 people took part - psychology teachers, university academics, mental health professionals - from c.16 European countries, and presenters from five countries talked about their approaches to mental health education for young people. It was very interesting, and inspiring, to learn about these different perspectives, with a clear focus on practical strategies for supporting young people through these very challenging times.
Sadly, the global covid-19 pandemic since early 2020 has led to an increase in mental health problems especially among young people. This webinar forms part of a project by EFPTA and the EFPA Board of Educational Affairs on mental health education in secondary schools in Europe, including the role of psychology teachers in supporting students' mental health.
Presentations are available here.
Saturday 19 February 2022, 10.00-12.00 (CET). This event has now ended.
Click the link below for full programme information.
Documents and Resources
Webinar flyer /poster - full programme
EFPTA Board meetings 2022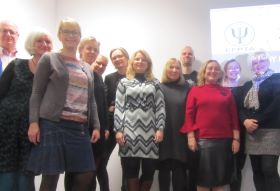 Normally the Board meets twice a year, in spring and autumn, in person, usually in a major European city. Choice of location often depends on availability of flights from member countries, and costs of meeting venue and hotel accommodation. The last face-to-face meeting was in Bratislava in November 2019 (see photo), not long before the start of the pandemic, and since then all our meetings in 2020, 2021 and early 2022 have been online via Zoom or other platform. Although we very much miss the in-person meetings, like many other organisations we have found benefits in meeting online: due to the convenience and low / no costs, we can meet more frequently, and some members are enabled to attend online who would be unable to do so otherwise.
But now we plan to hold the Spring 2022 Board meeting in person, on 29-30 April, in Odense, Denmark. We have scheduled it slightly later than usual in the hope that covid-19 restrictions and infection risk will have reduced over time. There will also be the option of 'attending' online, i.e. it will be a hybrid meeting.
The next full Board meeting will be in November 2022 (date to be confirmed), and before then there will be at least one interim meeting.
Any member of an EFPTA member association is welcome to attend Board meetings as an observer, by invitation /prior arrangement; please use the Contact page to obtain more details.
New survey of psychology teachers – take part!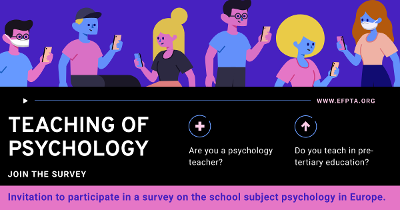 Psychology teachers - you are invited to take part in a new survey on psychology as a school subject in Europe.
At Stockholm University a research project is underway with a focus on psychology as a school subject in various countries / nations in Europe. How teachers of psychology experience the subject is the main focus of the project. All who teach or have taught psychology are welcome to contribute their experiences.
The survey also includes questions about how the subject content can be seen in a larger perspective, for example in relation to various key competencies or skills. This is an in-depth questionnaire about your experiences as a psychology teacher, and it will take about 20-30 minutes to complete. It is in English (also available in Swedish), but on all open-ended questions you can answer in a language of your choice.
Your participation is very much appreciated and will make an important contribution to our knowledge of psychology as a school subject and its development.
Click
here
to answer the questionnaire.
Participation is of course completely voluntary, but we hope that you choose to take part! The project is in collaboration with the European Federation of Psychology Teachers' Associations (EFPTA) and the questionnaire is being answered by psychology teachers in different countries in Europe. The information collected will be handled confidentially and in accordance with ethical research practice in line with The European Code of Conduct for Research Integrity. If you have any questions, you will find contact details at the start of the questionnaire.
Thank you very much!
Dr Ebba Christina Blåvarg
Department of Education, Stockholm University
EFPTA 2021 Conference took place online 15-17 April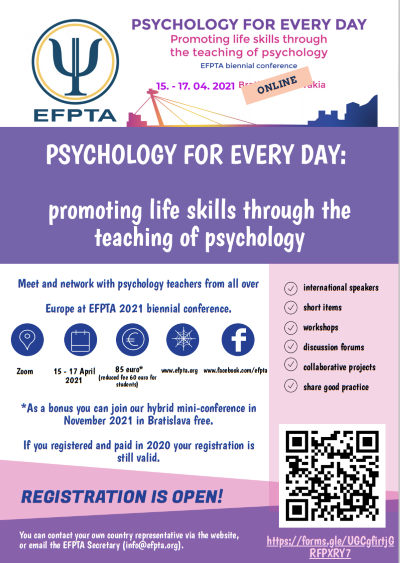 Thanks go to everyone who took part in the EFPTA 2021 online conference and made it such a success!
PSYCHOLOGY FOR EVERY DAY: PROMOTING LIFE SKILLS THROUGH THE TEACHING OF PSYCHOLOGY.
Our 2021 Conference was fully online. It was originally planned for 2020, in Bratislava, but was postponed to 2021 and we moved it online because of the pandemic (but one day we hope to meet in Bratislava in person!)
Some presentations will be available here soon.
Read the President's Report of the Conference.
The full Programme is still available here
Documents and Resources
President's Report of EFPTA 2021 Conference
EFPTA /EFPA research report now published in PLAT journal!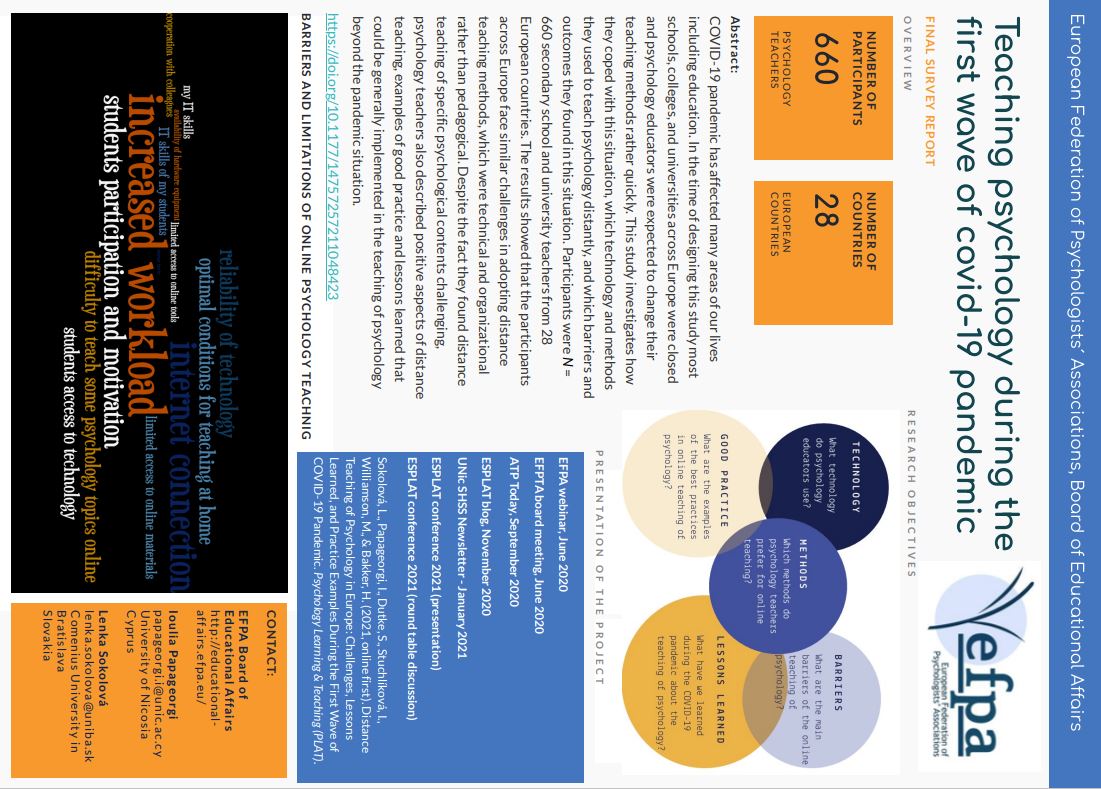 Teachers of psychology - and indeed most teachers across subjects and levels - have been obliged to adopt online teaching methods during much of 2020-21, because of widespread school closures in many countries due to the coronavirus pandemic.
This has involved very unusual and profound changes in the way we work, and psychology teachers' experiences of adapting to virtual teaching and learning processes have been studied collaboratively by EFPTA and the EFPA Board of Educational Affairs.
This important research, led by Lenka Sokolová, has now been published in the peer-reviewed journal Psychology Learning and Teaching (PLAT), under the title "Distance Teaching of Psychology in Europe: Challenges, Lessons Learned, and Practice Examples During the First Wave of the COVID-19 Pandemic". You will find it here.
The research findings have also been disseminated in other ways: at a webinar in June 2020, entitled "Psychology Education and Psychology of Education in Post-COVID-19 times", Lenka Sokolová (EFPTA) and Ioulia Papageorgi (EFPA BEA) presented the interim findings. See their presentation at the link below, and the full webinar recording is here.
In addition, the research was reported in ATP Today (September 2020), the magazine of the Association for the Teaching of Psychology (UK) - find it here. It is also featured on the website of the European Society for Psychology Learning and Teaching (ESPLAT)
With its six authors from EFPA BEA and EFPTA, this project is an excellent example of psychologists and psychology teachers across Europe collaborating to produce research findings of great value to the development of psychology education.
An infographic poster is also available - please download and display it! See link below.
Documents and Resources
Online teaching of psychology during the COVID-19 pandemic - webinar presentation
Teaching psychology during covid-19 - infographic poster
Collaborate! webinar presentation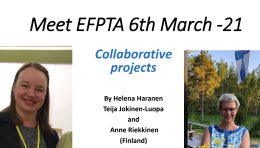 In the EFPTA webinar on 6 March, Anne Riekkinen (Finland) took us on a fascinating journey through recent projects with collaborative partners in various countries. She presented both her own experiences and those of her Finnish colleagues Teija Jokinen-Luopa and Helena Haranen, in projects mostly facilitated by the EU programme Erasmus+. Anne left us in no doubt as to the value of such experiences, and the Erasmus+ programme itself, for her professional practice, a sentiment strongly echoed by the event participants. Take a look at Anne's presentation, and be inspired!
Documents and Resources
Collaborative projects presentation 06-03-21
Meet EFPTA! webinar took place on 6 March 2021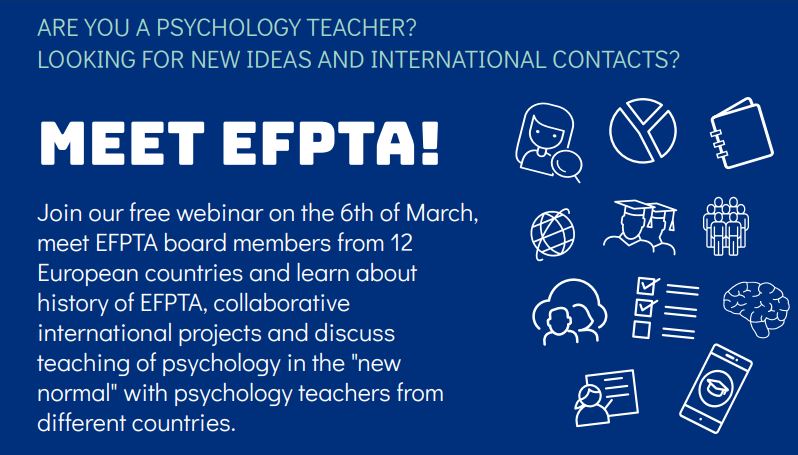 Thank you, everyone who took part in our first webinar!
Psychology teachers attended from many European countries! We heard presentations from practising psychology teachers about collaborative projects amongst students and teachers across different member countries, and about experiences of teaching psychology in "the new normal" of covid-19. Some of the presentations will be posted here soon.
If you missed this event, don't worry, our EFPTA 2021 Conference is on 15-17 April - why not book your place now?
Documents and Resources
Meet EFPTA! webinar poster / flyer
Erasmus: two teachers' experiences of a Finnish-UK collaboration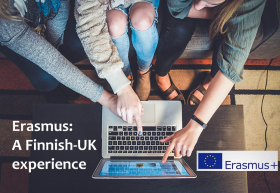 Anne Riekkinen of Finland and Barbra Georgellis of England joined forces in a collaborative project supported by the EU Erasmus programme. They visited each other's schools and met their students, learning different classroom approaches in teaching psychology, which they have now put into practice in their own teaching. Read all about it in their article!
Documents and Resources
Article: Erasmus - a Finnish-UK experience
EFPTA Newsletter 2020 is published!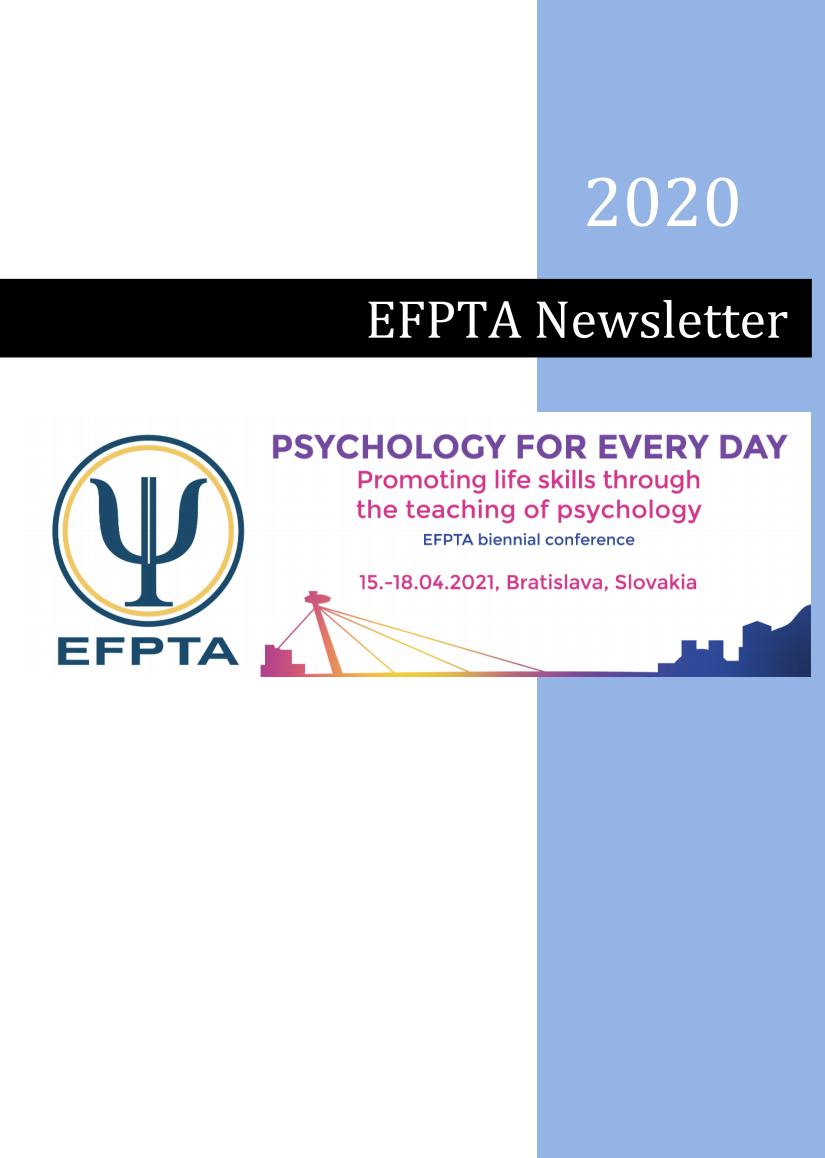 You'll find a great mixture of articles, news and reports of events of interest to psychology teachers. Thanks to all contributors - who are psychology teachers and researchers from across Europe - and thanks to new Editor, Jock McGinty (England / Wales representative), taking over from Jackie Moody (Luxembourg). Enjoy!
Documents and Resources