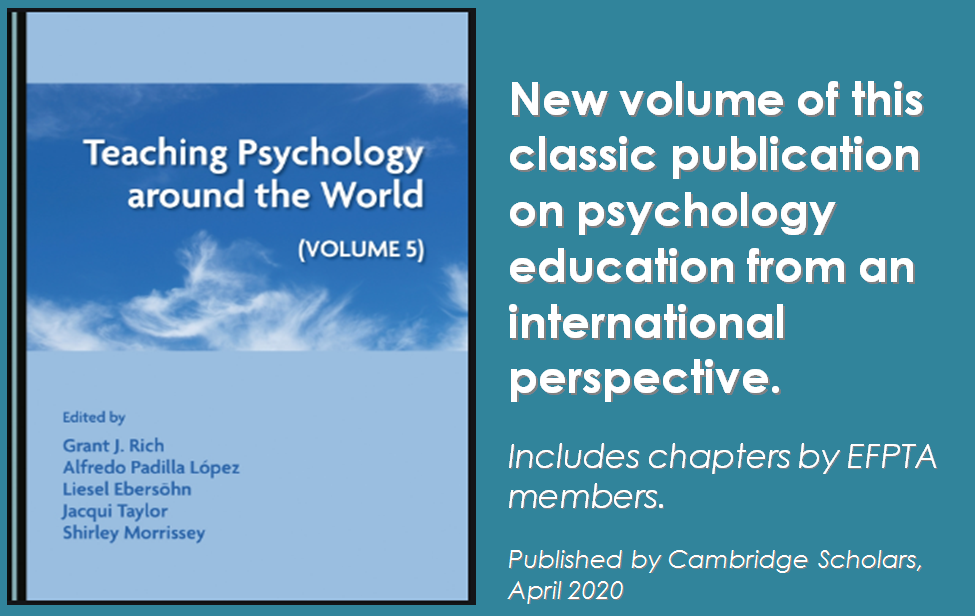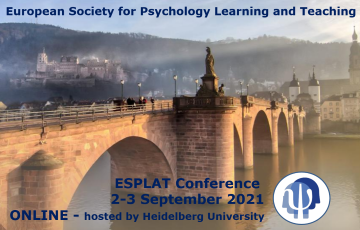 News
Please let us know any news stories from your country /association – use the "contact us" tab.
EFPTA 2021 Conference took place online 15-17 April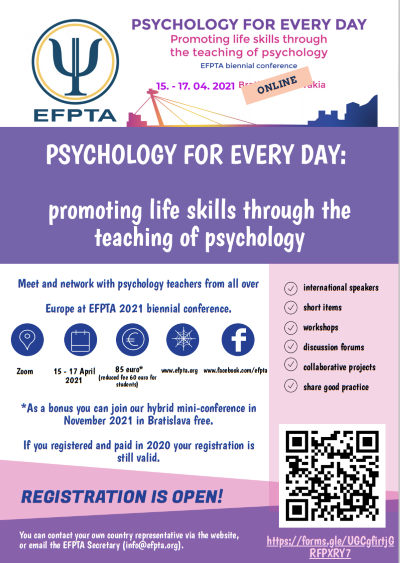 Thanks go to everyone who took part in the EFPTA 2021 online conference and made it such a success!
PSYCHOLOGY FOR EVERY DAY: PROMOTING LIFE SKILLS THROUGH THE TEACHING OF PSYCHOLOGY.
Our 2021 Conference was fully online. It was originally planned for 2020, in Bratislava, but was postponed to 2021 and we moved it online because of the pandemic (but one day we hope to meet in Bratislava in person!)
If you were a delegate at the conference, as a bonus you will be able to join our mini-conference in November 2021 free of charge!
Some presentations will be available here soon.
Meanwhile the full Programme is still available here
Documents and Resources
Collaborate! webinar presentation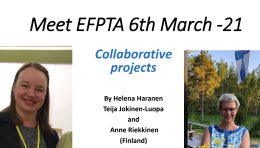 In the EFPTA webinar on 6 March, Anne Riekkinen (Finland) took us on a fascinating journey through recent projects with collaborative partners in various countries. She presented both her own experiences and those of her Finnish colleagues Teija Jokinen-Luopa and Helena Haranen, in projects mostly facilitated by the EU programme Erasmus+. Anne left us in no doubt as to the value of such experiences, and the Erasmus+ programme itself, for her professional practice, a sentiment strongly echoed by the event participants. Take a look at Anne's presentation, and be inspired!
Documents and Resources
Collaborative projects presentation 06-03-21
Meet EFPTA! webinar took place on 6 March 2021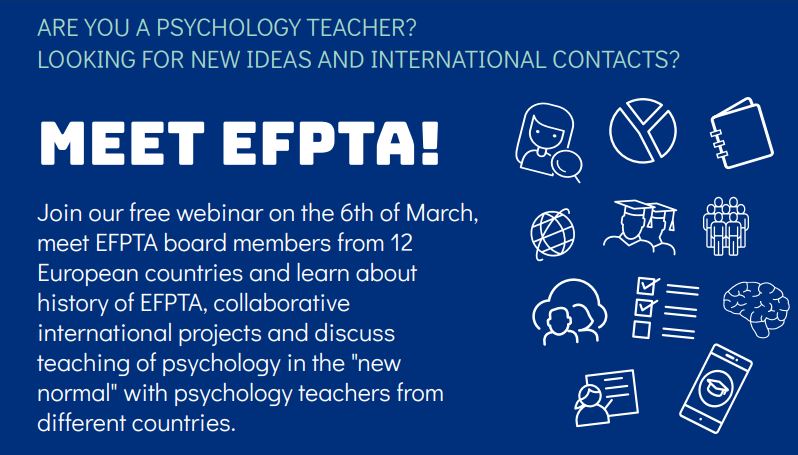 Thank you, everyone who took part in our first webinar!
Psychology teachers attended from many European countries! We heard presentations from practising psychology teachers about collaborative projects amongst students and teachers across different member countries, and about experiences of teaching psychology in "the new normal" of covid-19. Some of the presentations will be posted here soon.
If you missed this event, don't worry, our EFPTA 2021 Conference is on 15-17 April - why not book your place now?
Documents and Resources
Meet EFPTA! webinar poster / flyer
Erasmus: two teachers' experiences of a Finnish-UK collaboration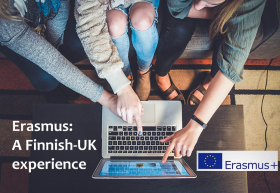 Anne Riekkinen of Finland and Barbra Georgellis of England joined forces in a collaborative project supported by the EU Erasmus programme. They visited each other's schools and met their students, learning different classroom approaches in teaching psychology, which they have now put into practice in their own teaching. Read all about it in their article!
Documents and Resources
Article: Erasmus - a Finnish-UK experience
EFPTA Newsletter 2020 is published!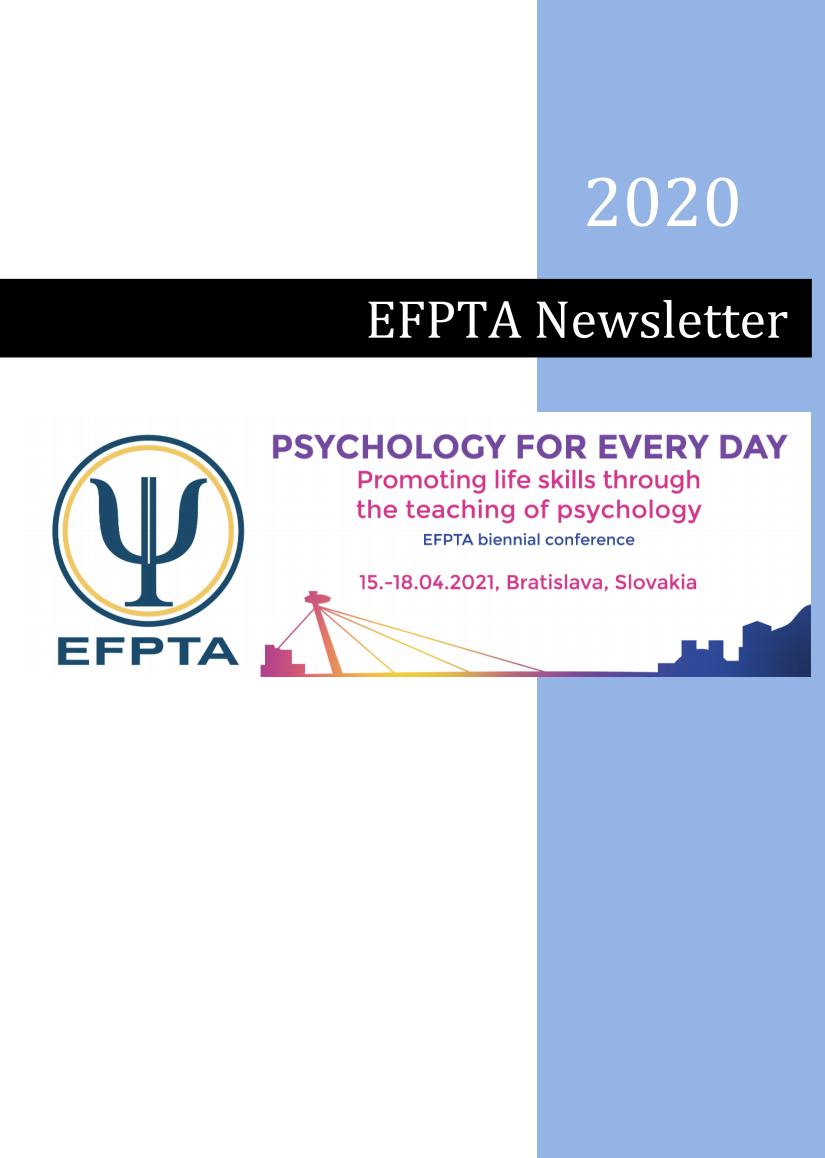 You'll find a great mixture of articles, news and reports of events of interest to psychology teachers. Thanks to all contributors - who are psychology teachers and researchers from across Europe - and thanks to new Editor, Jock McGinty (England / Wales representative), taking over from Jackie Moody (Luxembourg). Enjoy!
Documents and Resources
Teaching online in the time of corona - EFPTA /EFPA research collaboration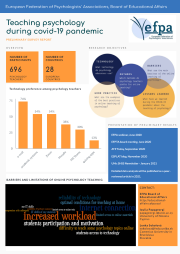 Teachers of psychology - and indeed most teachers across subjects and levels - have been obliged to adopt online teaching methods during much of 2020, because of widespread school closures in many countries due to the coronavirus pandemic.
This has involved very unusual and profound changes in the way we work, and psychology teachers' experiences of adapting to virtual teaching and learning processes have been studied collaboratively by EFPTA and the EFPA Board of Educational Affairs.
At a webinar in June 2020, entitled "Psychology Education and Psychology of Education in Post-COVID-19 times", Lenka Sokolová (EFPTA) and Ioulia Papageorgi (EFPA BEA) presented the interim findings - they make very interesting reading! See their presentation at the link below. The full webinar recording is here.
The research has been reported in ATP Today (September 2020), the magazine of the Association for the Teaching of Psychology (UK) - find it here. It is also featured on the website of the European Society for Psychology Learning and Teaching (ESPLAT) Full data analysis is planned for publication in a peer-reviewed journal in 2021 - watch this space for news!
An infographic poster is also available - please download and display it! See link below.
Documents and Resources
Online teaching of psychology during the COVID-19 pandemic - webinar presentation
Teaching psychology during covid-19 - infographic poster
Forthcoming EFPTA Board meetings 2021-22
Saturday 11 September 2021: online
Friday 26 - Saturday 27 November 2021: in person or online or hybrid (to be confirmed). If in person or hybrid, the meeting will be hosted in Bratislava by the Slovakian association.
Friday 25 - Saturday 26 March 2022: in person or online or hybrid (to be confirmed). If in person or hybrid, the meeting will be hosted in Odense by the Danish association.

These meetings are attended by Board members (see 'Executive Board' page). It is possible for guests / observers to attend: if for example you are a member of an EFPTA member association, or a psychology teacher in a country without an association, please contact the Secretary if you would like to attend a Board meeting.
EFPTA information flyer for printing
Here is the EFPTA information flyer! Its aim is to help raise awareness of EFPTA and psychology education in schools, amongst those involved in teaching and studying psychology in all countries in Europe. It is intended for dissemination in 'hard copy', so please download and print it so that copies are distributed as widely as possible, amongst colleagues, at events, etc. It is designed to be printed as one double-sided A4 sheet, and then folded in three.
Documents and Resources
EFPTA information flyer 2020-21