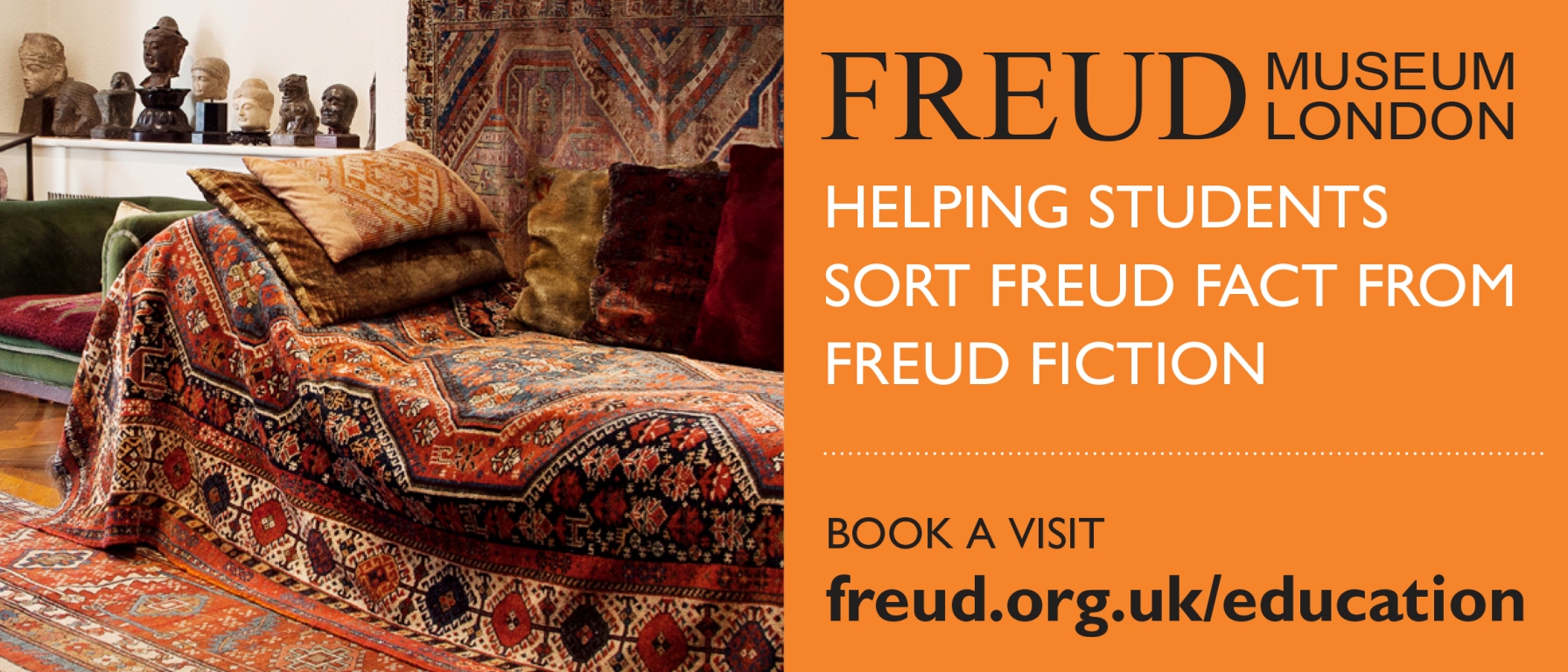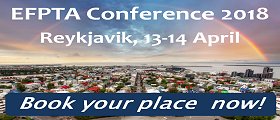 News
Please let us know any news stories from your country /association – use the "contact us" tab.
Registration now open for the EFPTA 2018 Conference in Reykjavik, 13-14 April!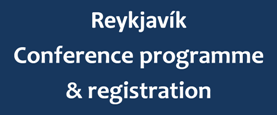 Book your place at the 2018 EFPTA Conference, to be held in Reykjavik, on 13-14 April 2018!
This conference is for psychology teachers and everyone interested in psychology education at pre-university / high school level in Europe.
The theme is 'Psychology for everyone - the value of psychology education for young people' and it will be hosted by the Icelandic psychology teachers' association - Samtöksálfræði- oguppeldisfræðikennara.
Click below for the programme (provisional) including details of venues and schedule. As well as psychology teachers, we encourage psychology students, psychology student teachers, and psychology teacher educators to attend!

Click here to register and book your place!
Documents and Resources
Conference poster /flyer to download / print
EFPTA at EuroPlat 2017, Salzburg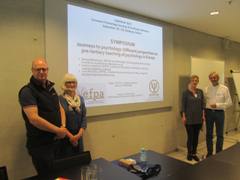 EFPTA had a strong presence at the flagship European Psychology Learning and Teaching (EuroPlat) conference, held in September 2017 in Salzburg, against a backdrop of the fabulous scenery of the Austrian Alps! EFPTA members Lenka Sokolová (Slovakia), Morag Williamson (Scotland) and Jock McGinty (England & Wales) gave a symposium on "Journeys to psychology: different perspectives on pre-tertiary teaching of psychology in Europe". In the chair was Prof. Dr. Stephan Dutke, Chair of the EFPA Board of Educational Affairs, which hosted the session jointly with EFPTA. The presentations were followed by Q & A, and lively discussion amongst delegates!
You can find the complete symposium presentation on the research-sharing platform, Open Science Framework, here. Visit the EuroPlat 2017 website for details of the whole event programme.
Documents and Resources
Report on EuroPlat & other EFPTA activities from Finnish psychologists' journal 'Psykologi'
EFPTA Board meetings: Nov 2017, Apr 2018, Nov 2018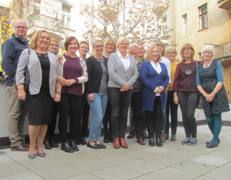 The autumn 2017 EFPTA Board meeting was held in Prague on 3-4 November 2017. Many thanks to the Czech Republic psychologists' association for their help in organising this event, as hosts of the EFPA "European Semester", July-December 2018.
We welcomed new Finnish representatives Helena Haranen and Teija Jokinen-Luopa, and said a sad goodbye to long-standing Adviser Marjatta Lehtovirta. President Harpa Hafsteinsdóttir presented her with a gift in appreciation of her work with the Board over the years.
The next meeting will be held on 13 April 2018 in Reykjavík, prior to the start of the EFPTA Conference. Provisional dates and venue for the autumn 2018 meeting are: 2-3 November, Prague. Any member of an EFPTA member association is welcome to attend Board meetings as an observer; please use the Contact page to ask for more details.
US: creating the best future for high school psychology education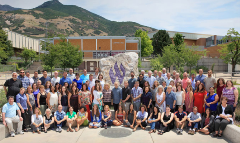 In recognition of the importance of high school psychology as the start of the pipeline into the discipline, the first-ever American Psychological Association (APA) Summit on High School Psychology Education was held July 9-14, 2017, at Weber State University in Ogden, Utah (US). The mission of the summit was to create the best future for high school psychology education. A total of 72 psychology educators from high schools, community colleges and undergraduate psychology programs were selected to participate in the summit following an open call for participants.
During the summit, participants worked in eight separate working groups, each looking at an issue important in high school psychology education. The working groups were:
•

Skills That Promote Flourishing
•

National Standards for High School Psychology Curricula
•

Assessing Student Knowledge and Skills in Psychology
•

Credentialing and Identifying the High School Psychology Teacher
•

Ongoing Professional Development
•

Technology and Online Learning
Each group was tasked with discussing their area of focus, producing teaching resources or other materials to support the mission of the summit, and making recommendations for specific audiences, such as teachers, administrators and APA.
Initial accounts of the summit, via participant evaluation forms and in-person feedback, indicate that the summit was a success. By the conclusion of the summit, the working groups put forward over 40 draft deliverables and over 40 recommendations for students, teachers, administrators, APA and other organizations, and the public. In the coming weeks and months, the Summit Steering Committee, APA staff, the APA Committee of Teachers of Psychology in Secondary Schools (TOPSS) and summit participants will work to prioritize and finalize the work that began at the summit. Summit outcomes will be broadly disseminated. The December issue of the Psychology Teacher Network
newsletter will focus on the summit. The issue will be linked to this page when published.
All high school psychology teachers are welcome to join APA/TOPSS, including teachers in Europe and elsewhere. Joining APA as a High School Teacher Affiliate automatically enrols teachers in TOPSS. New members can join online through the TOPSS website below.
APA Summit website, including videos from the opening remarks
and three keynote addresses
New APA infographic on trends in high school and undergraduate psychology
APA Teachers of Psychology in Secondary Schools (TOPSS) website
EFPTA Board: elected members for 2017-19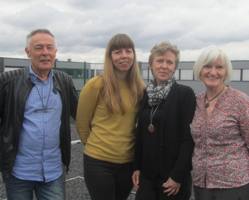 At the Board meeting in Luxembourg on 1 April 2017, members elected new President Harpa Hafsteinsdóttir and Vice-President Lenka Sokolová (Harpa is second from left and Lenka third from left). Wolfgang Augustin was re-elected as Treasurer, and Morag Williamson as Secretary. Retiring President Hannele Puolakka was warmly thanked by Board members for her work over the past two years, as well as her contribution to EFPTA for several years previously, and incoming President Harpa presented her with a token of our gratitude.
Finland: EFPTA article in journal; Finland centenary - 'Together'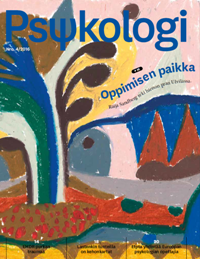 EFPTA Board Advisor Marjatta Lehtovirta, from Finland, has published an article about EFPTA and pre-tertiary psychology education in various countries across Europe, in the Finnish psychologists' journal, "Psykologi". Its readership comprises mainly academic and professional psychologists, who will surely find the article interesting and informative.
Psykologiliitto, the Finnish Psychological Association, is celebrating its 60th anniversary this year. For more information, see the Association website.

Finland itself is celebrating its centenary in 2017, having become an independent country in 1917. The centenary programme – for Finns and international friends of Finland alike - emphasises equality, democracy and diversity; the theme is simply 'Together'. See the centenary website.

Documents and Resources
Journal article in "Psykologi"
EFPTA information flyer for printing
Our updated information flyer is now available! Its aim is to raise awareness of EFPTA and psychology education in schools, amongst those involved in teaching and studying psychology in all countries in Europe. It is intended for dissemination in 'hard copy', so please download and print it so that copies are distributed as widely as possible. It is designed to be printed as one double-sided A4 sheet, and then folded in three.
Documents and Resources
Newsletter 2016 is published!
Read all about the 2016 Prague conference, and find out about EFPTA's recent activities, in our 2016 Newsletter.
New network for psychology student teachers in Europe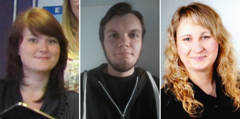 In April 2016 a group of three psychology teacher students from Germany - Maike Stückemann, Martin Behrendt and Sarah Längler(pictured left) - met as part of the EFPTA conference in Prague, which takes place every two years. They are planning to build a network of psychology student teachers named European Network of Psychology Students and Teachers (ENPST). It will be for psychology students, student teachers, teachers and everyone else who is interested in teaching psychology.

The aims/benefits of this network will be to:

exchange information regarding teaching psychology
provide help during semester abroad (if applicable)

provide news of actual events
develop a closer relationship between students
maintain and develop contacts
A possible option to achieve a network could be a homepage or forum. But we are in the process of developing and the outcome is absolutely open.
If you are interested to be part or to help to develop this network, please:
If you know any psychology student teachers, or psychology students who may be interested in teaching psychology as a career, please pass this information on to them, so that the idea of this project will be spread to many people in different European countries.
EFPTA research poster at ICPS-2015, Amsterdam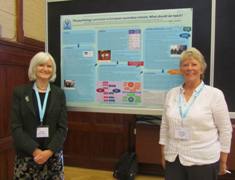 Research by an EFPTA team was presented at the ICPS-2015 conference in Amsterdam on 12 March. Findings from focus groups of psychology teachers from 10 European countries, on the pre-tertiary psychology curriculum – its purpose, content, and how / by whom it should be determined – were presented in a research poster by Morag Williamson (Scotland) and Dorothy Coombs (England & Wales). The other members of the research team were Renate Schrempf (Germany) and Lenka Sokolová (Slovakia). The poster session formed part of a special 'Psychology Teaching Institute' event at the conference, organised by the Association for Psychological Science (APS). Psychology education was also the focus of a round-table session, a 'Teaching Forum' hosted by the APS Teaching Fund, in which Dorothy and Morag also participated. This was the first international psychology conference to feature a teaching theme in which pre-tertiary psychology was included. As well as disseminating research findings, the EFPTA representatives were able to raise awareness of pre-tertiary psychology more generally amongst psychology educators from many countries.
Are you interested in collaborating on research into pre-tertiary psychology? Please contact the research team.
Complete poster submission
EFPTA poster submission on ICPS / Open Science Framework
Documents and Resources
EFPTA research poster ICPS-2015
Contact: the research team
Send email to the research team