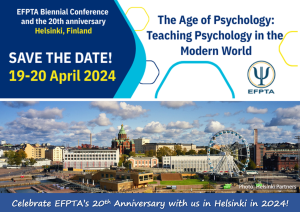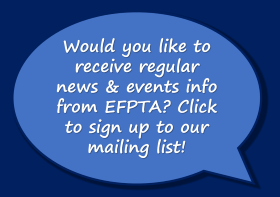 Events
EFPTA holds a major conference every two years in different European cities, normally in the spring, with a full-scale programme of presentations and workshops by teachers, students and researchers. EFPTA Board meetings are held twice yearly in Brussels, normally in spring and autumn. All members of EFPTA member associations, as well as individual members, are eligible and encouraged to attend all meetings and events.
EFPTA 2024 Helsinki - Biennial Conference and 20th anniversary!

We are delighted to announce that the EFPTA 2024 Conference will be held in Helsinki, Finland! Save the date in your diary now - 19-20 April 2024.
This will be our first in-person event since 2018 when the Conference was held in Reykjavik, Iceland. The EFPTA Conference is normally biennial, but the two-yearly pattern was disrupted by the pandemic, and our last Conference - Bratislava 2020 - was postponed till 2021 and was held online.
So we're excited to be getting together again in person, and what's more, this will be EFPTA's 20th Anniversary! In fact Helsinki is the place where EFPTA was founded in 2004, so it's very fitting that we will be there again to celebrate our 20th birthday - and that we will be hosted by the Finnish psychology teachers' association Psykologianopettajat (PSOP).
We will have a full programme of keynotes, workshops, discussion forums and networking sessions for, and by, psychology teachers and educators from across Europe. There will also be optional cultural activities on 18 and 21 April.
Watch this space for information on registering for the Conference; there will also be a call for submissions soon. Meanwhile - save the date!
Presentations from previous EFPTA Conferences.

Presentations now available! From our webinar on 18 March - Climate change & sustainability in psychology education.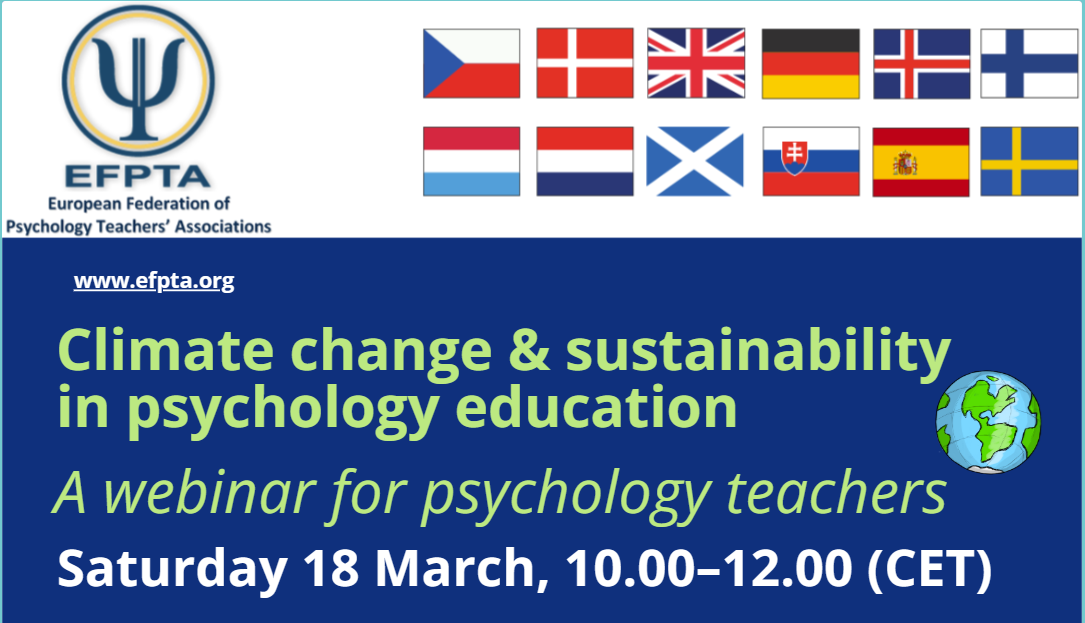 Thank you to everyone who took part in our spring webinar on Saturday 18 March! The theme of climate change and sustainability in psychology education was very popular with about 50 participants from many countries in Europe and beyond. Unfortunately our keynote speaker Dr Dan O'Hare had to cancel, however EFPTA Bard members stepped in to provide a summary of Dr O'Hare's recent paper.
Cick on the links below for the workshop presentations.
In the breakout sessions participants said they found the workshops interesting and useful, and also shared their views and info about how they address environmental issues and sustainability in their own schools. Concern about the effects of the climate crisis on the wellbeing of young people, and the need to prepare them for future challenges, will continue. Also a number of important fundamental questions arose about the role of psychology education in addressing the climate crisis, so we plan to follow up this theme in future EFPTA events - watch this space!
Psychology and climate change is a theme currently prioritised by the European Federation of Psychologists' Associations (EFPA), to which EFPTA is affiliated.
Documents and Resources
Workshop: Whole-school approaches to sustainability
EFPTA webinar 19 February 2022: thanks for taking part!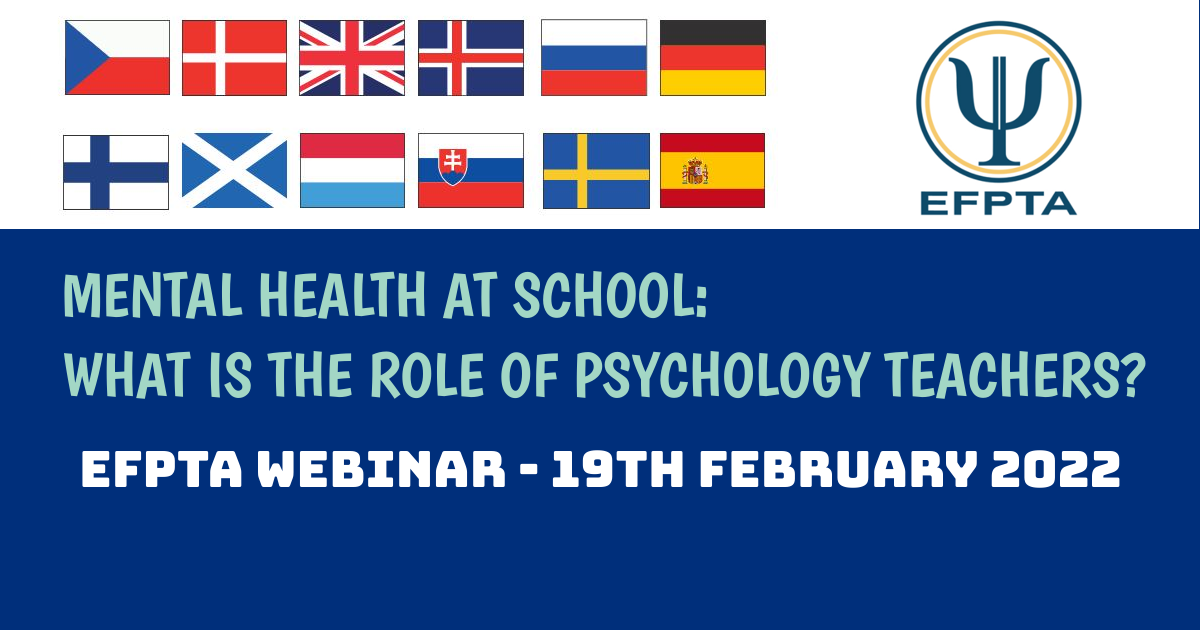 On 19 February we held a webinar with the theme: Mental health at school: what is the role of psychology teachers?
Around 50 people took part - psychology teachers, university academics, mental health professionals - from c.16 European countries, and presenters from five countries talked about their approaches to mental health education for young people. It was very interesting, and inspiring, to learn about these different perspectives, with a clear focus on practical strategies for supporting young people through these very challenging times.
Sadly, the global covid-19 pandemic since early 2020 has led to an increase in mental health problems especially among young people. This webinar forms part of a project by EFPTA and the EFPA Board of Educational Affairs on mental health education in secondary schools in Europe, including the role of psychology teachers in supporting students' mental health.
Presentations are available here.
Saturday 19 February 2022, 10.00-12.00 (CET). This event has now ended.
Click the link below for full programme information.
Documents and Resources
Webinar flyer /poster - full programme